We've been quite busy after July's content update. It unfortunately introduced a few bugs that needed to be fixed as soon as possible.
The first hotfix went live two weeks ago, and now with this hotfix we're hoping that we managed to fix all the major bugs of the update.
But, you know us.. it wouldn't be us if we didn't cram even more stuff into one update. 🙂
Read more
As a result, Zero Caliber now has full Index Controller support (except for finger tracking) and native WMR joystick support. Oculus Touch controllers got the awaited toggle-grip option and as a bonus, performance got increased by at least 20%*!
*mostly noticeable in combat situations
FULL PATCH NOTES
Valve Index Controller support. Attention! The 'bolt catch' and 'magazine release' buttons are hand-dependant. Right controller buttons work on weapons held in the right hand, left controller buttons work on weapons held in the left hand.

Native WMR joystick support

Oculus Touch toggle-grip option – no need to hold the grip continuously; can be changed in the control settings
Fixed crashes caused by recent changes
Massive performance optimization, especially in combat situations – temporarily disabled projectile particle effects in order to better optimize it
Magazines don't fall through the floor after dropping a weapon
'Second Wind' invulnerability when low on health is back
Fixed an issue in Co-op where the client player couldn't move after teleporting back from out of the combat area
Ally NPC name tags and icons now follow them correctly
Fixed an issue where the players could grab on invisible attachments. This caused the players' arms to stretch far away
Items cannot disappear anymore while being force-pulled
Client players in Co-op now respawn on checkpoints with the equipment used right before dying
We have two, very very busy months behind us. As a result, we can proudly present Zero Caliber's biggest, most packed content update since its EA release last year!
We've brought you a new map – Lockup, a new weapon – Glock 18, the much-awaited loadout storing system, unlockable weapon skins, sharper graphics and a lot, lot more!
Really, when i say a lot more, i mean A LOT more.
Read moreRead less
This update is a HUGE one, please read through all the patchnotes below to see the full picture.
It's impossible to summarize all the new content and improvements in a few words.
MAPS
New mission: Lockup. The Tlalokii have overtaken a maximum security prison. You're tasked with the covert mission of recovering sensitive prisoner lists. NOTE: You can find a basketball court mid-mission with functioning basketballs. Because even soldiers have to relax mid-combat.
WEAPON SKINS | REWORKED LOBBY
Extended Armory: with the amount of weapons and skins we have, it was time to extend our armory with new weapon racks, and a shooting range (which is still WiP)
The new weapon racks contain all the available weapons, their skins, all the attachments and their skins and all types of magazines. And their skins. Yes. All of them. NOTE: You can choose which weapon skin you prefer and all the corresponding items will use that skin.
Unlocking weapon skins: each skin has a rank requirement you have to reach. There are also hidden mystery skins throughout all maps (if treasure hunting is your thing – yarr!); they can only be unlocked by finding them.
NEW LOADOUT STORING SYSTEM
Store your favourite loadouts! You now have access to 3 life-size mannequins to store your favourite loadouts on. You can manually suit up your doppelgängers with your favourite setups, OR you can just press the appropriate buttons (either to store or to equip) to make the process faster. Store your gear, and they'll be waiting for you next time you launch the game.
WEAPONS
New weapon: the Glock 18, a legendary fully-automatic pistol. Did i mention it also has a drum mag? Brrrrt.
Tactical shield level-up: when using a pistol and shield combo, you can reload one-handed for that extra badass feeling!
Burst fire mode added for the following weapons: G36 (double shot), Glock 18 (triple shot) and the KRISS Vector (double shot)
Most weapons have multiple new types of magazines: extended, double, drum, etc.
All magazines have skinned versions and you can combine them with different weapon skins
Grenades now have indicator trails when thrown, with lights and sound effect
Shotgun clips can be used for easier reload: load 5 shells in at a time, then keep taking clips out of your ammo pouch instead of individual shells. NOTE: Why have shotguns without proper reload mechanics? Good question! Pumpable shotguns are finally coming in the next update!
The last 15 weapons you've grabbed won't disappear within a ~32m radius
Revolver ejects bullets/casings correctly
Turret release by distance fixed
Stocks dynamically open or close depending on which state is closer (instead of always opening unless completely closed)
G36 stock now works as intended
ATTACHMENTS
Attention! The way of removing attachments has changed! Press and hold the trigger, then pull the attachment away (no need to use button combinations anymore).
A short trigger press (no holding!) without pulling your hand away will change the modes on the attachment if applicable. WITH UNDER BARREL GRIPS: Little bit different, you have to secondary grab the weapon (grip) – then press the trigger and pull the attachment away to remove it. NOTE: Knocking off an attachment with another one still works!
Smart attachment interaction when pressing the corresponding button – action performed in this order: 1. Release slider IF backed 2. Activate side attachment IF there is one on the weapon AND the slider isn't backed 3. Activate scope IF the slider isn't backed AND there is no side attachment
Attachment optimization resulting in much better performance
Silencers can be removed from pistols
Flash suppressor now works as intended
GAMEPLAY | AI
Smarter AI behavior: the enemy will change states, run in and out of cover, run away or charge you depending on the situation around them NOTE: Friendly AI will get a rework soon!
AI spawn optimization resulting in better performance
Loading screen added
MULTIPLAYER
Holster improvement: can't remove other players' holstered weapons. No more stealing. :'(
Reviving other players isn't instant anymore, it has a small (1 sec) cooldown.
Force pull sync improved
Improved weapon spawning to hand
PLAYER | CONTROL IMPROVEMENTS
Trigger/grip interaction: we've separated what the trigger and grip buttons can do: Trigger: ammo and attachment interaction Grip: weapon grabbing
Reloading while crouching: it is now easier to take out ammo from the belt while crouching (ammo pouch collider is around the player's knees when crouching)
Wrist and lower arm positioning and rotations are reworked NOTE: It is much better than before, but still WiP.
UI laser beam improved: it is now independent from weapon length
Completely reworked Comfort Mode setting for players prone to motion sickness – it is much more pleasant now. Also we now have three intensity settings under Settings>Game
Comfort mode setup added to Lobby
Player doesn't glitch anymore when pressing full locomotion immediately after spawning
Various force pull bug fixes
Menu and pointer now supports main hand setting for left handed players NOTE: Index controllers are not supported officially. It's coming in the next update!
GFX
Sharpened image to reduce overall blurriness – MUCH more sharp graphics
No more head- and armless body after player death
POIs are now fading when the player looks towards them – less obstructing
Menu UI scaled down
Impact decals are now attached to dynamic objects
In the menu, after pressing Exit to Desktop, Cancel button now works
New map has an experimental GFX feature (on VR platform): lens flares (bless Michael Bay!)
'Retaliation' map got the 'american-night' filter: instead of pitch-black, it has a nice blue ambient atmosphere
Overall post processing FX improvements
SFX
Updated gun sounds
Burst weapon tail sound fixed, sound echoes after every burst even if the player doesn't let go of the trigger
We've added 2 new weapons, the M9 Beretta for pistol fans, and the BAR for light machine gun enthusiasts. Both of them have unique, skinned variants laying around on several maps.
The AI (both enemy- and friendly) got a new cover system, they're now using covers efficiently, plus they can be more aggressive in close encounters.
Be aware, this might increase the game's difficulty, you now have to play more carefully!
We've added a soundtrack to the game, player animations got improved, your Co-op buddies will now look much better. We've also fixed quite a few bugs.
Read moreRead less
You can check the detailed patchnotes below:
WEAPONS | ATTACHMENTS
New weapons: M9 Beretta and M1918 BAR with unique skins
G36 slider fix: slider can now be grabbed from both sides with any hand
Attachment holo picture fix: previously holding any attachment in hand and releasing a magazine caused the holo picture to be replaced by the magazine picture
GAMEPLAY | AI IMPROVEMENTS
AI cover system overhaul: enemies now use covers more efficiently
AI behavior changed: in certain situations they move faster, and are more aggressive. Be careful in close encounters!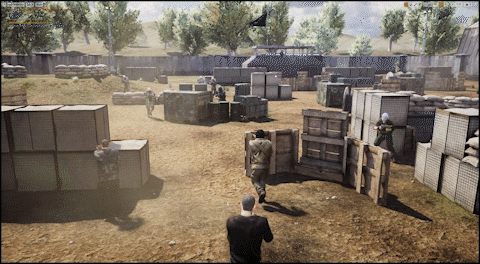 PLAYER | CONTROL IMPROVEMENTS
Player crouch and prone animations: player movement in Co-op now looks much better (still WiP)
Holstering long weapons fix: there is a delay on collision when taking weapons out of the holster. They won't get stuck in the ground anymore!
Added a Controller Dead Zone option in Settings – Controls. This is useful when your character is drifting without pressing anything on the controller due to worn out controller components and/or unintentional interaction
Foot rotates onto surface its standing on
MULTIPLAYER
Seamless server travel – next mission button now works in Co-op as well. You can play through the Chicago story missions with your Co-op partners without hosting every story map individually.
Improved server creation interface
Improved weapon belt transformations on client side
Explosion forces sync correctly (grenades, barrels, airstrike)
Checkpoint fixes: newly joining players teleport to the correct checkpoint
Experience and money can only be gained after reaching the last checkpoint of a map
SFX
New original soundtrack (can be turned off in the settings)
Master and Music Volume settings
Slider sounds when cocking manually
New weapon sounds
New, realistic flyby and ricochet sounds
More balanced soundscape
Running sound effects
MAPS
Removed invisible locomotion blocker on Timber 1
GFX | OPTIMIZATION
Night vision scope improvements
Overall performance gains throughout the game
Zero Caliber VR
Zero Caliber VR is a first-person tactical shooter developed by XREAL Games exclusively for premium Virtual Reality headsets. The story brings the player to a dystopian United States in the not too distant future where physics-based interaction combined with realistic weapon handling and stunning graphics will make you feel like you're physically part of the action. Fight either alone, or with your friends throughout the whole campaign, which is fully playable in Co-Op. PvP coming soon!
Action-oriented story, gripping gunfights, realistic weapons with an on-the-fly swappable attachment system. Immersion like you've never felt before in a VR military shooter!
REALISTIC COMBAT SYSTEM
MOVE YOUR BODY TO FIGHT AND FIND COVER
Handle, aim and reload your weapons with real-life movements! We modeled the in-game weapons based on their real-life counterparts paying extreme attention to detail. Each weapon has its unique reloading method that you have to learn and practice to fully master them.
If you fancy explosions, just grab a grenade and throw it at the enemy. After you pulled the pin of course.
Stay in the open for too long and you're dead. Try to find cover instead, duck, crouch, sneak, peek around a corner, clear obstacles with real-life movements. Military combat isn't all about shooting. Being aware of your surroundings, the terrain, and working together with your squadmates are all part of a successful mission. Don't let your fellow soldiers down!
REALISTIC WEAPONS
CUSTOMIZE YOUR FAVOURITE GUN
Everyone has a unique playstyle. Is accuracy your thing? Put a laser sight on your assault rifle and take accurate shots in semi-automatic mode, or just grab a sniper rifle. Are you more of a shoot first, ask later type of person? Take a shotgun, or dual wield your machine guns in fully automatic firing mode. Be careful though, recoil can make your job really difficult! Combine your favourite gun with your favourite attachments on-the-fly to find out which variation suits you the most!
THE STORY
DIVE INTO AN ENGAGING DYSTOPIAN ADVENTURE IN THE NOT TOO DISTANT FUTURE
Water is life. Someone should've made that clear before humanity started poisoning Earth with microplastics. Now water is death. People are fighting for drinkable water, for survival.
The military tried their best to keep order, but inevitably they got overwhelmed. That's when mercenaries appeared.. then entire private armies.. and then when hope started to fade away came the religious cults. The most fearsome of all is a secretive organization worshipping Tlaloc, the aztec God of rain. The "Tlalokii", as they call themselves. Their motto? "Join us or perish". What is even worse, they know something that can change the fate of humanity.
Be part of this action-packed, story-driven VR adventure where you fight alongside your fellow soldiers trying to keep order… or what's left of it anyway.
STUNNING GRAPHICS
We place realism above anything else. Graphics and ambiance are crucial parts of this, that's why we took extreme care in audio and visual design. Explorable open environment, stunning graphics, background noises, realistic weapon sound effects.
A constantly developing military VR FPS experience that will surely make you forget that you are in a video game!
Hardware specs:
MINIMUM | RECOMMENDED
64-bit processor and operating system
Windows 7 – 64 bit | Windows 10
Intel i5-4590 | Intel i7-4770
8 GB RAM | 16 GB RAM
NVIDIA GeForce GTX 970 | NVIDIA GeForce GTX 1070
20 GB available space
Requirements are for Early Access